1st of a 10-part series previewing West Virginia's football team ahead of the upcoming season
We're less than a month from camp, meaning it's time to revive our wildly mildly successful preview series from last year. Parts 1-9 will again look at each of our position groups, starting with the quarterbacks and ending with the coaches, and attempt to grade them on a scale of 1-5 with 5 being the highest. The 10th part will be a season preview where I'll go through the schedule game by game and predict our final record. Off we go..
THE BFG
As in, "Billy Fuckin' Grier". It's been a nervy 12 months or so wondering if Will would be eligible, but now that it's official (Happy 154th West Virginia!) it's time to get hype. Fair warning, reeling myself in and staying objective for this section is probably one of the 3 or 4 hardest things I've done in my life. Not that I wasn't excited for Skyler last year, but I can talk myself into almost anything if you give me enough time.
This year though.. this is the first time in many moons that my cautious optimism has skewed more towards optimism than cautiousness with regards to our QB. Ye Mountaineer Faithful rejoice! Skyler's Wild Ride is over, and we've officially entered the Willennium (I'm so sorry).
The Good
We've only seen Will play 6 games at the D1 level (or 7 if you count our Spring Game), but those 6 (or 7) games have provided more than enough evidence to convince me that he should be a pretty substantial upgrade over his predecessor in just about every conceivable way.
Let's start with the arm. Grier completed 66% of his passes while at Florida, a number that he matched with his 12/18 performance in the Blue-Gold game. That's not setting any records, but his ability to consistently put the ball in the right spots, especially in the short and intermediate areas, will be a welcome addition to our offense. Watch here how his ball placement creates the opportunity to run after the catch:
To show he's still got it, here he is this spring again delivering the ball on-time and on-target, which again allows for some considerable YAC:
And one more. Note here how he drills the ball into his receiver's body so that there's no chance the defender can make a play:
That's phenomenal accuracy, but he also shows the arm strength to drive the ball downfield, with 14 of his 106 completions at Florida going for 20+ yards. Here he casually drops one into a bucket from the opposite hash:
And if necessary, he's willing to stand in there and take a hit to do it:
As for the athleticism, let's not forget that he was evaluated by some outlets as a dual-threat QB coming out of high school. He only ran for 116 yards and a pair of scores in his 6 games at Florida, but flashed some impressive big-play ability with 7 of his 36 carries going for 10+ yards. He's not a guy you're going to call a ton of designed runs for, but moves around very well both inside and outside of the pocket:
The guy is straight galloping through that second level. He also appears to have great feel in the pocket, and trusts his instincts regarding when to step up and scramble:
More than enough to keep people honest, right?
Then there's the intangibles.
"He doesn't have to act like he's something special, he just is." Kyle Bosch on Will Grier
Skill set aside, it's these kinds of quotes that have me really excited. It just seems like everybody loves the guy. A lot has been said about the 18-month lay-off and how it's going to make him rusty or whatever, but I feel that's completely ignoring the benefits that time has provided. Sure he hasn't "played", but he hasn't been sitting on his ass either. If anything those 18 months have been like an internship, providing Grier the opportunity to learn the offense and build relationships with teammates away from the spotlight before taking the reigns full-time. Quotes like the one above show how much that behind-the-scenes stuff matters, and seeing the on-field chemistry he already has with his teammates reinforces it. Simply put, the guy seems like the kind of leader who makes others around him more confident just by being there. We haven't had a guy with a presence like that since Pat White.
The Bad
Right now it's hard to say. He wasn't perfect at Florida by any means, but the mistakes he made are simply part of the learning process for young quarterbacks, and our own relationship with him is still so new that we haven't seen any glaring red flags yet (I'm assuming there are some?).
The Ugly
Please. Dude has fully bought into that Mountaineer lifestyle, and the beard speaks for itself..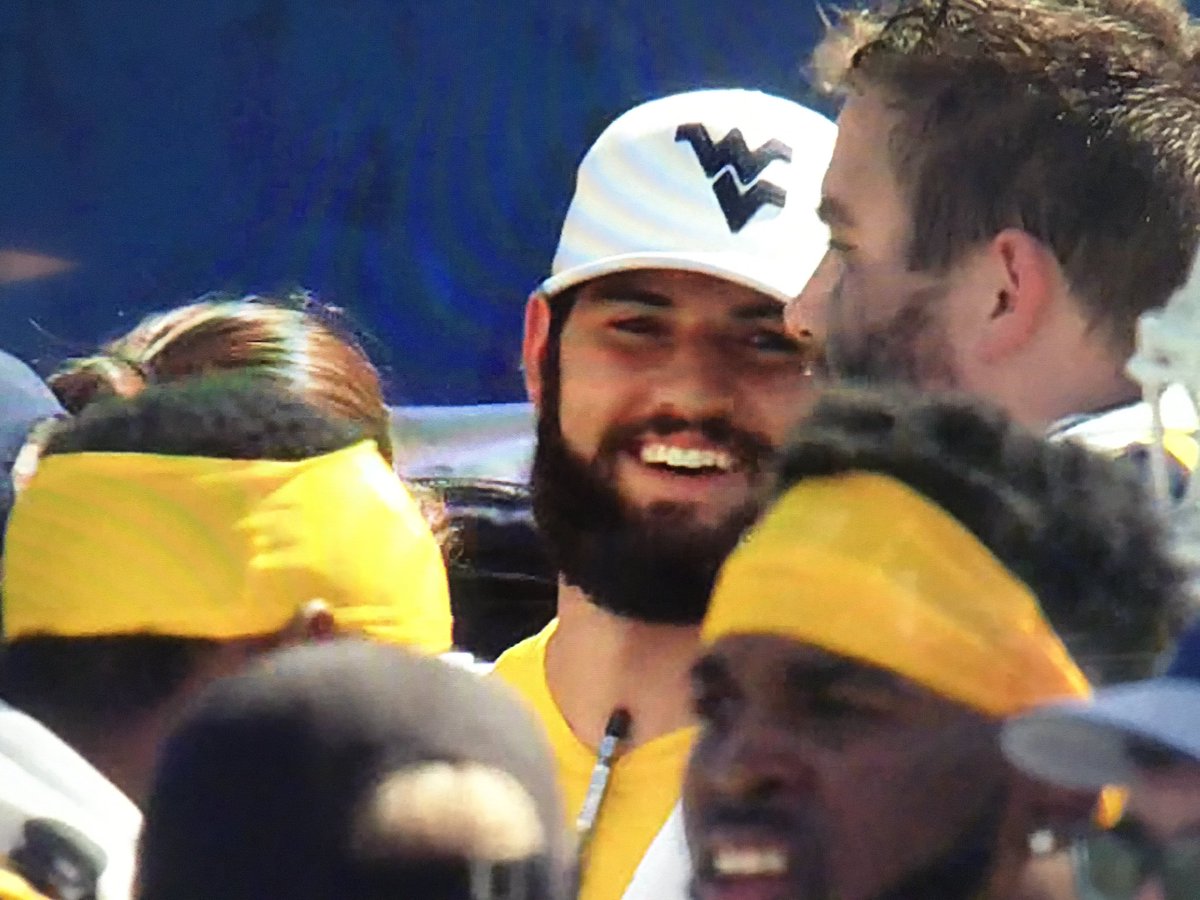 THE BACKUPS
Right now the only backup is Chris Chuganov, though he'll hopefully be joined shortly by David Israel. Israel I've not seen at all (though I'm sure we wanted him for some reason), but I know Chugs throws a pretty good ball when he's not pooping his pants (which he'll do from time to time). I know this sounds harsh, but neither of these guys give me much confidence that they're ready to take over if something should happen.
POSITION GRADE – 4.5/5
So I guess I lied. I said I'd reeled myself in, yet here we are 1000 words of verbal fellatio and one Pat White comparison later. Best part is, I don't feel bad about any of it. Will gives you everything you'd want in a QB – he's accurate, has the arm to make all the throws, the legs to escape pressure and extend plays, and most importantly, the poise to make smart decisions under duress. There simply aren't many guys that I'd rather have leading our team than BFG.
*An earlier version of this piece incorrectly included Cody Saunders as a backup. Cody is no longer with the team.*