Sergio Garcia and Justin Rose went into the final round tied for the lead.
We have been here before with Sergio. Many times in fact. He has always been a contender and always found ways to lose. Sometimes he made excuses. Sometimes he complained. Never did he break through and make it happen. Once a vibrant, youthful Spanish talent who seemed like he was destined to challenge Tiger at the turn of the century for dominance in the sport, Sergio never materialized like we all thought he would. Would this be the day, today, on Seve Ballesteros' birthday….
Justin Rose has put together one of the most solid careers in golf with 20 wins coming all over the world including one major when he won the US Open in 2013 at Merion. He owns top 5s in all four majors including a runner up at Augusta two years ago. After posting a big time 67 on Saturday, he was in the driver's seat to wear the green jacket for the first time.
Nobody seemed to want any part of the European dual on the day. Rickie Fowler, Charlie Hoffman, and Jordan Spieth all wilted on Sunday
Charl Schwartzel, Thomas Pieters, and Matt Kuchar all threw up some strong numbers as somewhat non contenders on the first page of the leaderboard and took home a nice pay day. The highlight was Kuchar's ace on 16…
…which got him to three back with two to play but he never got any closer.
The stage was set. Garcia and Rose.
Sergio threw the first punches by making two birdies in the first three holes and taking a two stroke lead which eventually turned into three after a Rose bogey on #5. Then Rose went nuts and birdied 6, 7, and 8 to go out in 34.
The two were tied going into the back nine when Sergio fell apart. He bogeyed 10 and 11 and looked as if he was dead after taking an unplayable in the left shrubbery by Rae's Creek on 13 but somehow survived and made par to stay at 6-under, only two back. Then the unthinkable happened, Sergio rallied. Instead of imploding and letting Rose strut to victory, he birdied 14, then almost dunked his second shot on 15 which led to a last rotation dropped putt for eagle.
Boom. Sergio was alive! He and Rose were tied with three to play.
There was one sputter when Rose made birdie on 16 and Sergio fanned his putt, but Rose gave it right back on 17 which sent the pair to 18 tied again. Two perfect drives followed by a lucky bounce from Rose and a beautiful stuffed iron from Sergio left the putters to decide it. When Rose somehow missed his putt by an inch to the right, the door was open for Sergio to exorcise the demons and finish the job. Butttttt he didn't.
On to the playoff we went…
I would have put money on Sergio coming up short and choking it away but it was actually Rose who blinked. A blocked right tee shot and the subsequent punch out from the pine straw mixed with Sergio's striped drive and iron to about 15 feet painted the picture clearly. After a missed par attempt from Rose, Sergio had two putts to win his first. He only needed one as his TaylorMade ball circled the hole in grand fashion and dropped just like the money off his back.
Sergio Garcia was Masters Champion.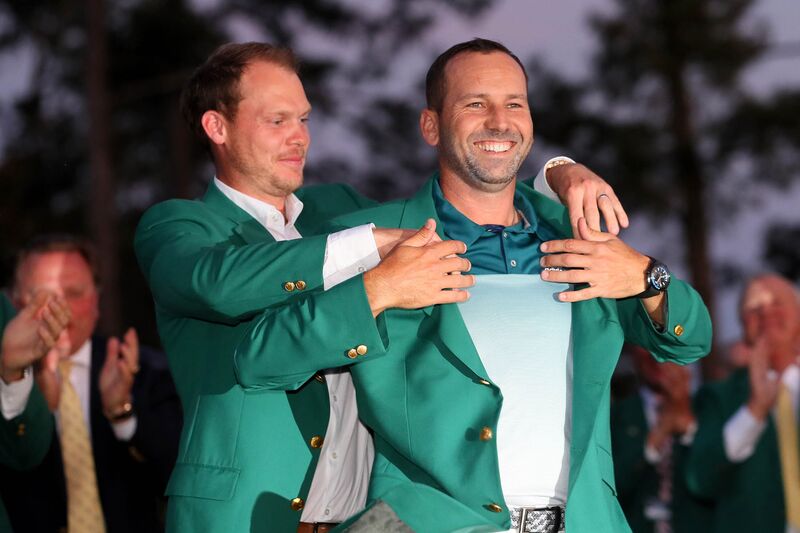 Like him or not, you can't help but respect the emotion and pure passion that he showed following the victory. It meant more to him than us as fans may ever know. And for that reason, the world of golf should go to bed tonight happy. Happy that we got to be highly entertained. And happy that the game grew and this win may have been more historic than we know right now. With shades of Mickelson in 2004, an old story came to a conclusion and new ones are now able to be written.