Here we are about 40 days away from the start of the season looking for anything to help pass the time. So what better than ranking the Big 12 football uniforms. Although, in real life, my style is pretty non existent, I do consider myself a connoisseur of sorts when it comes to sports uniforms. Rule #1, don't wear Adidas. Rule #2, don't emulate the look of a clown. Rule #3, no camo, neon, or ridiculously complex designs. Simple and classic is always a winner. When it comes to the Big 12, we have some looks from far different reaches of the uniform spectrum. So let's check them out.
10. Kansas Jayhawks
Kansas is a dumpster fire. Coaches have come and gone. Wins have been few and far between. But one thing remains the same…Adidas outfits them and Adidas SUCKS at designing uniforms. So the worst team in the conference shows up every Saturday looking about as bad as you can look.
The Trajan font on everything: Brutal. The random splashes of weird dark gray: Brutal. The insanely tight fitting jerseys with the Goodyear tire tread design: Brutal.
I dare you to name one thing about these uniforms that aren't brutal. Go ahead. I'll wait.
Yikes.
9. Texas Tech Red Raiders
The Red Raiders wear absolutely gorgeous throwbacks. It wasn't broken back then. It still isn't broken today. Should be their full time look…
But then they do this…
And that, folks, is why they are #9 instead of top 3. Come on. Figure it out Tech.
8. TCU Horned Frogs
TCU is riding the frog skin pattern hard. They put it on everything. Put it in your numbers, fine. Accent your helmets with it, great. But this?
But then they go and do something like this…
You're a weird one TCU.
7. Baylor Bears
Oh Baylor. Trying so hard to be Oregon. I don't think I have enough time in the day to find every possible combination of colors. You would be surprised to find out that Baylor's school colors are, in fact, Green and Gold. Shocking I know considering they so rarely wear any combination of the two. And the fact that their basketball team wears the same color that I use to highlight text at work. Confusing times in Waco, for multiple reasons.
Nope.
Nope. Although I do see some traces of school colors there. Let me try again.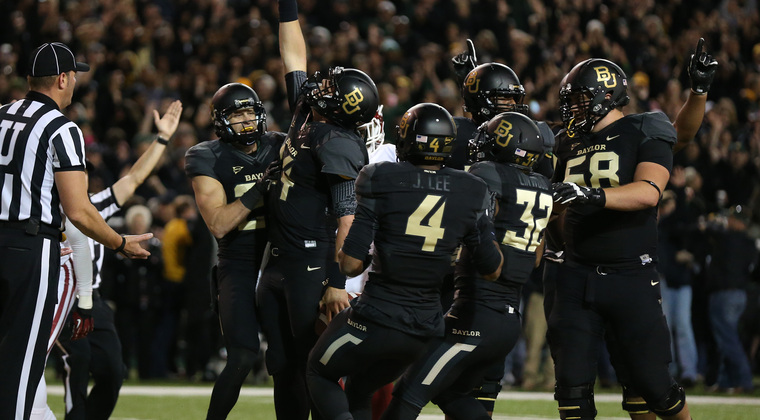 No again. Damn. I swear, I am trying hard guys. One more time.
There we go. Green and Gold. Very nice. They should try that more often.
6. Iowa State Cyclones
I want to like Iowa State's look. I really do. It is classic. It is traditional. The only problem, it is not theirs. The basically stole it from USC.
Looks pretty similar to me. They even tweaked their shade of red to mimic the Trojans. Only difference is the 2 shoulder stripes vs 1 stripe. Good look, but not their own which explains their #6 ranking.
They had a look in the 90s and early 2000s that was a little out there but it was, you know, theirs.
Go back to it.
The one thing of note for 2016…new head coach Matt Campbell added a white helmet (very very nice) and has said there will be changes made in the coming years. I look forward to seeing what he has in mind.
5. Oklahoma State Cowboys
Oklahoma State went with a complete redo of their look. Some things to like and some things to dislike.
The number font: Great. It is clean and sharp. The collar: Atrocious. What is that? Do less Cowboys. Waaay less. Helmet is too busy. The "COWBOYS" wordmark on the side of the pants is bad too. Stripes, ALWAYS. With stripes on the pants, OSU moves in the top 5. Without, enjoy #5.
4. West Virginia Mountaineers
The Mountaineers have great colors to work with. But sometimes that gets them in trouble. Gold and Blue is sharp. The problem is when they go monochromatic with each color. All blue and all gold (and even all white now) is just too much. Break it up and you have one of the best looks in the conference.
Too much blue.
Way too much gold.
But these are perfect.
A lot of people hate the number font. I can see why, but I do like the uniqueness of it. It is clearly meant specifically for WVU, much like what OSU and TCU has, and that is pretty cool.
I just wish they would eliminate the black (sleeves on blue jersey and facemask). Don't be like Baylor. Ride with your colors.
Bonus: How great are these throwback helmets?
3. Kansas State Wildcats
If there is one guy that knows style, it's this man. Bill Snyder, king of fashion.
K-State has two uniforms. Home and away. Purple and white. Silver helmet, silver britches.
Modeled after the Dallas Cowboys. Block numbers. PowerCat logo on the helmet. As simple as it gets. I love it. And you should too.
2. Oklahoma Sooners
Oklahoma would have had a legit argument to claim the top spot if it were not for their inability to realize that less is more. Their design has a ton in common with Texas and as you can see here, the deep crimson always looks good home or away.
But then they added these…
They call them their Bring The Wood uniforms and they aren't terrible, but they remind me a lot of Arkansas' unis. If they were a one off, that would be OK, but they wear them multiple times a year. Need to dump these and stick with the classics.
Texas Longhorns
Like I said before, classic/traditional/simple is ALWAYS the way to go. Texas has made a few minor tweaks over the last few years. All upgrades to one of the most traditional looks in college football and the clear class of the conference. Some alterations to the shoulder stripes along with adding the chrome Longhorn helmet logo are all beautiful additions.
The colors, the logo, the design. Don't mess with perfection. And that's what this is.